Biography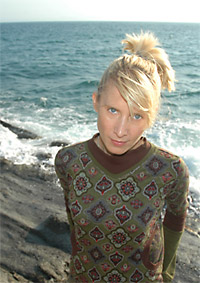 The head of the group forms Patricia Leidig.
Patricia is born in Valencia (Spain) but when she's 3, her parents moved back to Germany. She started making music when she was 3 and half years old. At the age of 6 she entered the JOC-development-program of Yamaha for young talents in Germany and within 10 years of seminars and intensive music-courses she got to participate in various Yamaha JOC-Concerts, especially in Japan in the year 1987 at the age of 11. Patricia records her first single "When we fly away" when she's 19, under the label of Mons Records. During the filming of the video clip, she meets Pedro Toro, a video director, and together they get to work in several recording projects, especially soundtracks for television and documentaries, developing a special talent in the creation of ambiences.
Later on, a proposal of a well known chillout guru, from Barcelona (Spain), brings them to write several ambient songs, that finally will become Almadrava's first album (Blanco y Negro 2001). Combining classic instruments with synthesizers, tradition with modernity, the beautiful with the strange, Almadrava brings the listener to a "Chill out" world, where every single song is important...
Almadrava has also been doing several Chill out remixes for different artists like Transfer, Jask, Information Society, Tukan, M-Black, Sunblind and De-Nuit.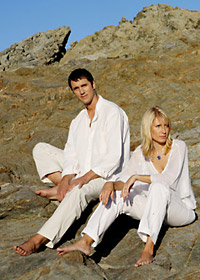 Patricia and Pedro are also the authors of the first musical of the air, "Dreamings". The musical was presented in November 2002, in the circuit of Motegi - Japan, with an assistance of over 55.000 spectators.
After the exiting experience in Japan, almadrava returns to the Jump Studios to record and work out their new album that finally will be called "all you left us".

"We're living in a touristic place, wich changes completely with the seasons. And it's not only a matter of metereologic changes, but as well a matter of cultural and social ones. People of all over the world come to visit this area, each one of them leaving a little piece of them here behind. While the first album was made under the influence of the area , this new one got its inspiration by "its" people and "all they left us"
The starting point of "all you left us" is the remix of Sorrow, a piece that originally belongs to the musical "Dreamings". The sad sound of a violin, played with great sensitivity by Ivaylo Deshkoff, is awakening the deepest memories of the listener, inviting him to follow his beautiful melody.

Sounding more acustic than the first album, this second one is formed by twelve songs. The group continues in the direction of chill out, without limiting themselfes to any temporarity. This is neither a summer album, nor a winter album.
Maybe we could say it is a walk along all over the year, in wich each song could be identified with a month. Instrumental songs, mixed with the soft voice of Patricia. All of them being part of a whole, made to be listened from the beginning to the end. As surprise, two songs interpreted in spanish: "Suave" and "Distancia del mar".



The album closes with "silent hotel". The deep emotion that gave birth to this song, dedicated to Joan Trayter (creator of the Music Lan Studios) breakes the "chill out" harmony, guiding us to something more like a "pop-chill".
The first single"The way" describes a walk along your lifetime, done with this positivity that almadrava knows how to transmit. Listen and smile. The recording of the album finished around end of 2003, again with the colaboration of Jordi Solé (Music Lan).
February of 2005 is the date that it came out.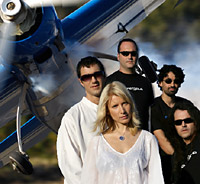 Then right after they started to work on a new project for the suisse company Haute-Voltige. This time the result would be a Rock-Musical. They presented it 2008 in Motegi, Twin Ring, Japan again with the assistance of lots of thousands of visitors.

Right following they started to work on their third album "Positivity".
An album full of energy and love. With 14 chill-pop songs, they created with enthusiasm and joy.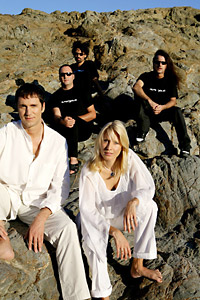 The "live"-experiences are taking every time more importance to the group and in this 3rd album once more you can feel the influence of combining the electronic with real instruments and vocals.
The first single is "Where life and the sea...", a duet where Patricia sings together with Joan Berenguer, keyboarder and background-vocalist of the live-band.

All over the years their songs got to be included in more than 100 compilation CD's such as Café del Mar, Hed Kandi Winterchill, Later (USA), Buddha Bar, Samsung Chillout Sessions...

2010 they finished their 4th album "Spectrum".
Another step into the direction of pop. 12 songs full of new energy and deep sense. There you will find of course the smooth and relaxing Chillout Songs with the elegance you are used to hear from Almadrava, but then you will discover as well new points of inspiration. Electro Pop is flowing more and more into their creations. It is obvious that the band is going through a development to go one step further. But with their smooth and magic touch as ever. "Spectrum" has been released in summer of 2010.
2014 they released one more album named "EP: 13 years Remixed (Part 1)" and in summer 2017 "15 YEARS Almadrava (RETROSPECTIVE)".