New Almadrava EP: "13 years Remixed (Part 1)"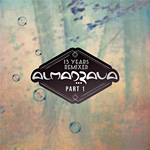 In 2001, Almadrava's first single was published. "Time to forget it" did appear in several compilations and it was the first step of their debut album, "Northern winds".
13 years after, 4 albums, and with their music on the main Chillout compilations (Cafe del Mar, Buddha Bar, Hed Kandi, Chillout Sessions, among others), they wanted to celebrate this anniversary opening their music to a selected group of friends and DJ's. The result, a group of
EP's "13 years remixed"
that will be released during this second half of 2014. The part 1 at the beginning of July.
Why to celebrate 13 years?
"Why not? We are happy to be here and we hope to reach further away. It's our will to make things good. Thirteen is an important part of the count, the one NOW".
Almadrava - Chill out in a different way

ALMADRAVA
The sound of Almadrava is delicate and surreal, a mix of cool electronic sounds, warm acoustics, coated with the sensual voice of Patricia, the leader of the band. The best live mediterranean Chillout taking the unique flavour of Ibiza around the world.

A lot has been happened since their debut album "Northern Winds" (Blanco y Negro) in 2001. Two more albums are on the market "All you left us"(Blanco y Negro 2005) and "Positivity" (Blanco y Negro 2008), and their fourth one, "Spectrum", now soon is going to be released. Their music has been included in more than 40 internacional compilation CD's such as "Café del Mar", "Hed Kandi-Winterchill", "Buddha Bar" or "Samsung Chillout Sessions" among others. The music of Almadrava can be found all over the globe.

THE CONCERTS
An Almadrava concert creates an ambience of well-being and calm in which the spectator can relax, enjoy a quality musical presentation and savour the special moment. It is a show for all kinds of people and nationalities.

Almadrava provides a modern and unforgettable experience, a chill-out celebration to enjoy your time... but in a different way.